Get it on! Get it on! Get it on! Nothing to fear
It was SO HOT in Eugene this weekend!! I was sticking to my desk so badly, I had to give in to the impulse to go for a walk by the Willamette and laze around on the lawn with a book. It's great to need sunglasses and shorts again.
If I have learned one thing about myself as an artist this year, it's that I thrive on deadlines. Creativity honestly comes easiest when I know exactly how much time I have, and it looks challenging. To tap into that drive for my summer projects, I've calculated approximately how many units of work each project requires (about an hour each…units of work could be "scan a page" or 2 units of work for "pencil a page"), and the total for all projects. Then, I can divide the units of work remaining by the days remaining and set a daily goal to get everything done. A little OCD, but excellent for my motivation. I love the feeling of racing or 'beating' a daily goal. Right now, the daily goal is 4 units of work, so I inked one page (2 units) and penciled one (2 units). Now I'm going to smack that daily goal down with another ink! >:D
I've been job-searching more fervently as we reach the one-month-till-summer mark. I applied for 2 receptionist jobs this weekend, and have considered a wide variety of other jobs while cruising Craigslist. Dental hygienist, waiter, bartender, graphic artist, painter…ice cream truck driver??
Yup. I could be that creeper handing you or your kid a choco-taco this summer.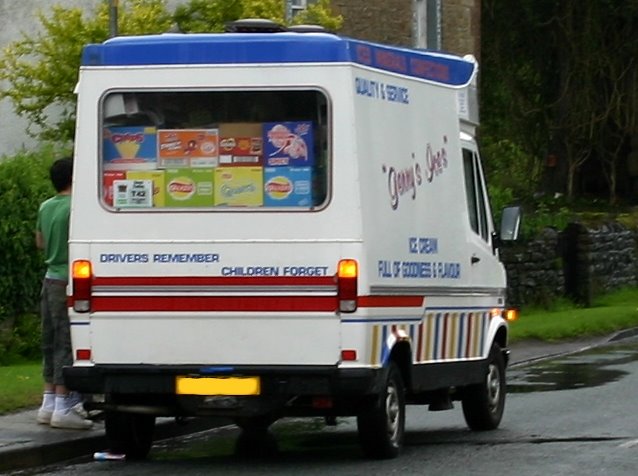 I don't really mind what I do, but I'd like to know what I'm doing before too long!