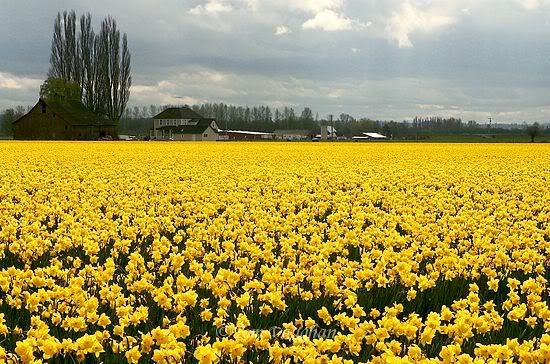 (I memorized I Wandered Lonely As A Cloud for a school assignment in 4th grade, and can still recite it. Such a beautiful poem! I love that image of remembering something that made an impression on you days or weeks after the fact.)
The University of Oregon is gorgeous in the spring. It's always fun to watch Eugene go from barren to green in just 10 days (usually around mid-March). Our campus has a lot of deciduous trees, and though it's bleak in the winter, there's this magical, sudden change every year when the leaves come back. I saw cherry blossoms today, and daffodil shoots! It was a shock to see the first signs of spring so soon, but I'm not complaining! I've been suspicious for a while that I'm slightly S.A.D., because my mood changes for the first part of each new season. The next one is a happy change, though, so again, not complaining.
I HAVE been drawing, I promise. I just don't own a scanner, so I have to wait for a day when I can drag all of my sketches/work to the library, wait for the nice scanner/computer workstation to clear (it's almost always someone checking Facebook for an hour! AAAAH!), and scan it all at once. There are plenty of new sketches on the way, and A Room of One's Own pages, once I have an inking session. Hang in there!
It feels good to have Out of Place chapter 6 done. Weekly webcomic pages only work when the pages stand alone…otherwise, your art changes so much from week to week, the flow of the chapters themselves get reeeally choppy. Sitting down and doing a scene at a time is the only way to go! I'm printing out chapter 6 today to have in a binder at Stumptown. I haven't decided how much art I want to have on the table…I have this fear of sitting there with 2 notebooks and a minicomic in front of me and looking like an idiot, but I don't want stacks of mediocre art in front of me, either.

Btw, the list of exibitors is up on Stumptown's website.